A crowd gathers to hear OWC Studios' Alec Peters talk about the state of Axanar at the Atlanta Science Fiction and Fantasy Expo. Photo/Lee Benjamin (Facebook)
The State of Axanar
Fact Check of Public Claims; Peters Offers New Details on 'Axanar Lite' Production
DECATUR, Ga. — Prelude to Axanar "proved how broken the Hollywood [financial] model is," OWC Studios head Alec Peters told a panel here, where he criticized CBS and Paramount Pictures for suing him instead of embracing the Axanar fan film.
Peters spoke March 3, 2018, at the Atlanta Science Fiction and Fantasy Expo's panel, "Axanar: The Ultimate Fan Film," describing "the past, present and future" of his project, even as he spent more than one-fifth of his time at the beginning talking about Star Trek: Discovery instead.
Axanar and Discovery
The panel's description on the expo's website claimed, without attribution, that Prelude to Axanar was "being favorably compared" to Discovery, and Peters' bio there described him as "highly regarded for creating the fan film that many say was the inspiration for Star Trek Discovery."
Since the claim was unattributed, AxaMonitor contacted an expo representative to learn who authored Peters' bio. The representative said the bio was co-written by Peters and expo staff.1)
CLARIFICATION The original version of this article incorrectly implied AxaMonitor had directly asked an expo representative who had written the unattributed claim in Peters' website bio that Axanar inspired Discovery. AxaMonitor regrets the error.
Most of the panel's opening was devoted to Peters' opinion of the new show, which he said he generally liked but opposed the notion that it is set in the same "universe" as the original series. Eventually, the panel turned to discussing Axanar itself.

---
'Oh, please. When I die, on my tombstone is gonna be "Creator of Axanar."' — OWC Studios head Alec Peters
Broken Hollywood Model
Peters criticized the way CBS and Paramount treated him in the copyright infringement lawsuit, saying they missed an opportunity to upend Hollywood's financing model by including fan films in the marketing of their movies.
He began his comments with a dismissive summary of the 13-month lawsuit that had riven Star Trek's fan base. "We got over it, we settled." But later summarized, "The fact that CBS and Paramount sued me… I don't know. I came out of that OK. … I'm not knocking CBS and Paramount. I feel they missed an opportunity ."
He told the panel CBS missed what he called "the bigger picture" Axanar represented:
"The studio missed the opportunity to create a whole new paradigm in Hollywood about how a movie is funded," Peters said. CBS could have screened Prelude as a short before the 2016 theatrical release of Star Trek Beyond, or as "an online teaser" to the feature film, or streamed on CBS All Access.
Peters offered no evidence of the financial windfall he predicted for CBS or Paramount had they taken him up on his offer.
"See the fan reaction, then let us continue by raising money online from Kickstarter, making these films, then giving them to you," Peters imagined aloud. "Once again, we don't want anything. The thrill of making Star Trek is what we want."
'No Profit'
That didn't jibe with the nearly three-quarter million dollars he spent to build a commercial studio or sell Trek-based merchandise in an online store, while paying himself and others a salary. Peters dismissed critics' claims he was making a profit from Axanar.
"Oh, please," he scoffed. "When I die, on my tombstone is gonna be 'Creator of Axanar,'" pivoting to a recitation of his résumé, including coaching national champion women's volleyball teams at the University of Southern California, coaching U.S. national team and "building a company sold for millions of dollars. The thing that people will remember me for is creating Axanar. Because it is enduring, it is true to Star Trek."
Meanwhile, the federal judge in the lawsuit, R. Gary Klausner, indeed found that Peters had profited from Axanar:
Peters' substantial involvement in, such as writing script for, the Axanar Works materially contributes to the infringing conduct of Axanar Productions. … As to vicarious infringement, Peters, as the president of Axanar Productions, was in charge of and was responsible for its conducts. He was responsible for many of the artistic decisions. He supervised and controlled Axanar Productions.

Peters also profited directly from the Axanar Works

.

2)

[citations omitted]
Inspiring Discovery
Although Peters himself made no claim Axanar inspired the new official Star Trek series, he held up his hands, saying people were coming to that conclusion on their own, given Discovery is set in the same year as Prelude's retrospective of the "Klingon war we came up with." In Prelude's timeline, however, the war occurred a decade before Discovery's setting.
"Who knows?" if Discovery copied Axanar, Peters asked, throwing up his hands. He said he wouldn't concede it hadn't unless Discovery creator Bryan Fuller told him so himself.
Previously, Peters had described Fuller as "a big fan of Axanar." That turned out to be a dubious claim. In a 2016 interview Fuller responded to a question about whether Discovery was based in any way on Axanar: "I actually don't know what the history of Axanar is," Fuller said.3)
Ares vs. Shenzhou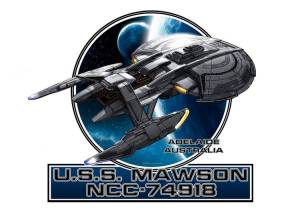 In that vein Peters — unprompted — raised the similarity in the design between Discovery's U.S.S. Shenzhou and the U.S.S. Ares in Prelude.
An odd comparison because Peters himself acknowledged Shenzhou's creator, John Eaves, came up with a similar design on behalf of an Australian fan club years before the Ares was designed.
Making Axanar Lite
Eventually, Peters turned discussion toward the pending production of the two, 15-minute short films — nicknamed "Axanar Lite" — that are all that's left of Axanar following the copyright lawsuit settlement in January 2017. Axanar director Robert Meyer Burnett told AxaMonitor he wanted to make the first 30 minutes of the Axanar feature under the terms of the settlement.
Peters had a different idea, wanting to replicate the success of Prelude. At the time, he wrote:
It is possible the two 15-minute episodes will be two more episodes of "The Four Years War" documentary [like Prelude to Axanar], as that is a great story telling format, which we have proven ourselves able to execute.

4)
Timeline Discrepancies
In the panel discussion a number of discrepancies turned up in Peters' account of the Axanar timeline.
Ex Post Facto Fan Poll
Even before a meeting in February 2017 of Axanar's leadership, Peters said he had already decided to follow Prelude's documentary format, something he said fans told him in a poll in Axanar's Fan Group on Facebook. In fact, that poll was conducted nine months later, long after Peters had already decided.
In November 2017, Burnett, whose 30-minute narrative idea had been rejected by Peters, and who never actually confirmed he'd direct Axanar Lite, resigned from Axanar.
"We need to do what the fans want," Peters said about the poll results favoring continuation of the "Four Years War" documentary. But he hadn't run that poll on Facebook until November 9, a week after Burnett's resignation — months after Peters had already announced he would take the documentary approach.
Georgia Move
Peters admitted that he had begun planning in February 2017 to move out of his California studio weeks before his unsuccessful Indiegogo campaign to try to put the beleaguered facility on a sound financial footing. It appeared he had planned for the crowdfunding to fail.
Production News
Peters was directly asked when Axanar Lite would begin production. He waffled in his reply, claiming he was "trying to plan out this year," with shooting originally scheduled in May, but meeting several obstacles, including cast availability and one actor whose hairstyle had radically changed.
More Characters
Even so, Peters did reveal some aspects about how he plans to shoot Axanar Lite. Despite the 30-minute run time, the two 15-minute episodes comprising the production will feature a dozen characters, with more of the ship's crew and other starship captains than in the original feature-length script.
---
'Despite the rosy picture Peters painted, Axanar Lite faces some rather large obstacles, including no announced cast, no director, no announced crew and no money.'
Shooting Schedule
Peters estimated a three to four-day shooting schedule, likely split between an as-yet unidentified studio in Los Angeles and an unconfirmed location in the Atlanta area. Though the unfinished Axanar sets are stored at Peters' warehouse, dubbed OWC Studios, in Lawrenceville, Ga.
Shooting Location in Doubt
Ironically, Peters admitted the warehouse may not even be used to produce the episodes; the facility is subsidized by the tech company, Other World Computing.
"We're trying to split between here in our [Lawrenceville, Ga.] studio or a friend's studio that has a big green screen, and L.A., where a lot of the actors and makeup guy are," Peters said. "We're not sure how that's split up between L.A. and Atlanta."
That differs somewhat from the impression Peters had given Axanar spokesman Mike Bawden as recently as a month before, when Bawden told AxaMonitor:
"The last time I spoke to Alec, we discussed plans for shooting in Georgia and nothing was said about shooting in California — although just because we didn't talk about it doesn't mean it won't happen."

5)
Challenges
Despite the rosy picture Peters painted, Axanar Lite faces some rather large obstacles, including:
No announced cast

No director

No announced crew

No money.
Peters has estimated Axanar Lite will cost $200,000, and he is prohibited under the terms of the settlement from raising money publicly, through such efforts as crowdfunding campaigns.
---
« If you look at all the negative press about Axanar almost none of it is about the story itself, none of it about how it looks. The criticism is not about the product, it's about the producer. » — Axanar Fan Group leader Reece Watkins
Casting
Peters claimed that before the lawsuit he had considered casting Discovery lead actor Jason Isaacs, though he did not say for which role. He said his girlfriend had a friend who knows Jason Isaacs. He also said he'd "had conversations with Doug [Jones]," who plays Saru in Discovery. "Obviously, I love the actors they're casting for Discovery.
Timeline for Completion
Though he wouldn't say when production would begin, Peters said he expected to be working on Axanar Lite for the next year and a half.
End of Fan Films
Though the Axanar lawsuit is often blamed for the end of fan films as they'd been known, Peters said competition among all the biggest fan productions had escalated to an "arms race" that led to the restrictions in the fan production guidelines released by CBS in June 2016.
Guidelines
In that atmosphere, Peters claimed the fan film community begged CBS for fan film guidelines. " We were all going, 'give us some guidelines, give us some guidelines.'" CBS refused.
Peters said CBS Vice President Bill Burke told him in 2013, "Quote: 'It would take the CEO of CBS and the CEO of Paramount sitting in a room and doing nothing but talk about fan films in order for us to produce guidelines.'"
As it turned out, Peters said, "Obviously it was easier for them to come up with guidelines than they were telling us for years. and that's all we wanted."
Of course, it took a multimillion-dollar lawsuit to prompt development of the guidelines, and they resulted in drastically curtailed fan productions. At the time Peters described them as "draconian." One particular, popular fan production bore the brunt early of the new restrictions.
Star Trek–Horizon
In the Q&A, Peters addressed a woman who said CBS had threatened to sue Tommy Kraft over his planned sequel to Star Trek – Horizon, arguably the most successful Trek fan film, having far surpassed Prelude to Axanar in YouTube views. Actually, CBS had only requested Kraft abandon his $250,000 crowdfunding campaign for the feature-length Federation Rising.
Even though Peters has accused Kraft of buying views on YouTube — something he didn't mention in the panel discussion — he claimed he was Kraft's "biggest donor." That was not true. Kraft said Peters had donated $600 to the crowdfunding effort. According to Kickstarter's records, seven other people donated more than Peters, including two who pledged at least $1,000 apiece.
Kraft's campaign raised $22,600, which paid for the feature-length Horizon; by contrast, Peters raised $1.4 million but never produced Axanar. Kraft's film garnered more than 8.1 million views6) in a fraction of the time it has taken Prelude to Axanar to reach only 3.4 million views.7)
Criticizing Other Fan Productions
The blame thrown at Axanar comes from "a small amount of Axanar haters," Peters said. Another panel member, Axanar Fan Group leader Reece Watkins, said the criticism was unfair.
"If you look at all the negative press about Axanar almost none of it is about the story itself," Watkins said. "None of it about how it looks. The criticism is not about the product, it's about the producer. … That comes from jealousy."
Of course, the public didn't have a story to criticize until the Axanar screenplay was leaked long after the lawsuit was settled, and after court documents pointed to Peters' financial mismanagement, which placed building his commercial studio ahead of the actual production of Axanar.
Other fan films "look like high school musicals made in somebody's garage wearing pajamas," Watkins said. Before Prelude fan films "looked like crap," he added.
While Peters allowed that Star Trek New Voyages and Star Trek Continues looked good, "no one would mistake them for real Star Trek. … Others look like home movies. This is Star Trek fans doing what they love doing. They simply didn't have the assets that we have, access to professional filmmakers, and the desire to do something different."
What really proved "the nail in the coffin of Star Trek fan films" was crowdfunding, Peters said. "It was accelerating. It wasn't just Axanar, it was everything that was going on [in fan films]. … It all comes down to whether you're threatening CBS and Paramount or not."

---
Additional reporting by Brian Hartsfield
Keywords