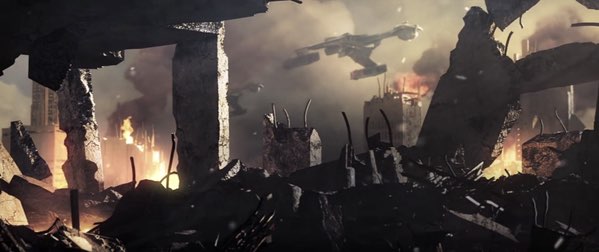 Table of Contents
Backlash
Main article: Axanar Tries to Rally Fan Films to Its Proposed Guidelines
See also: Peters Accuses Guidelines Leaker and 'Intrepid' Suspends Production.
In the aftermath of Axanar producer Alec Peters' disclosure of fan producers who were involved, most productions publicly disavowed Peters' attempt to bolster his settlement position in the lawsuit brought by CBS and Paramount Pictures.
With the studios reportedly considering guidelines for fan films, Peters reached out to more than nine fan productions during the week of May 23, 2016, seeking their support of rules Peters wanted the studios to accept.
Disavowals
Publication by AxaMonitor of the draft guidelines, combined with Peters' own release of the fan producers' names,1) spurred almost all of them to issue statements distancing themselves from Peters' efforts.
Naming Names
After AxaMonitor asked for a comment from the production regarding the draft guidelines prior to their publication on May 27, Axanar spokesman Morey Altman said:
Just to be clear, these aren't "Alec's Guidelines." They were developed by 8 fan film producers.
However, most of those producers characterized their involvement as merely commenting on draft guidelines provided them by Peters.
"None of us fan-filmmakers wrote any of those guidelines that were posted," said Yorktown producer John Atkin. "We simply made suggestions to Alec as to what (we felt) should be taken out of the draft we were shown."2)
Even so, Peters went on to publicly name the producers in an early-morning interview with pro-Axanar blogger Dave Heagney Jr.
---
« It would appear the reason for releasing the names is to create a false appearance of support for Peters and Axanar as a means to strengthen their negotiating position. » — Starbase Studios statement
Fan Production Statements
The following are the public statements, almost all outright disavowals or distancing from Peters' efforts or Axanar in general. 3)
Not Supporting Axanar's Draft Guidelines
Click on production name to view statement.
No Formal Statement
Star Trek: Renegades

Invited to participate

Co-producer Tom Moore told AxaMonitor that Renegades was not officially involved in the discussion and that the production wanted nothing to do with Alec Peters and Axanar.20) His public comments, he said, reflect only his personal opinion.21)

While he participated in the Facebook discussion, co-producer Ryan Husk told AxaMonitor he did so representing no specific fan production. Peters, however, had identified Husk to other invitees as being affiliated with Renegades.22)

Husk further clarified his position: "I'm not a part of this, never wanted a part in this, and explicitly stated that fact. … I am not 'of Renegades,' nor do I rep Renegades in any way. Look at my imdb and you'll see just how many fan films I've worked on as an actor, producer, and crew — not to mention the ones that are not on imdb. Anything I do or say, is speaking on behalf of myself alone."23)
Supports Axanar
Star Trek Ambush

Took part in the Facebook group chat.

"OFFICIAL STATEMENT FROM GREG LOCK:
"Yesterday, my name and Ambush was mentioned in an article regarding the lawsuit against Axanar, and Alec Peters proposing guidelines that all fan films can work too. The article implemented myself and several other fan film producers as having "talks". I feel it necessary to issue a statement.

"Firstly, I am not involved in anyway as having talks with CBS/Paramount regarding any future guidelines for Star Trek Fan Films. Alec had some ideas for potential guidelines and invited me into a Facebook discussion group to see what my thoughts were. Somehow the entire message thread was leaked to some sources, especially Axanar Haters and damming articles followed. This message leak was a breach of confidentiality and we are all very angry about this. I did not feel that Alec's actions were unreasonable; he was not telling CBS what to do in my opinion and, if anything, it seemed as always that he wanted to help in anyway he can to facilitate the continuation of fan films. It was quite clear that he was not going to "storm" into the offices of CBS and make demands, far from it. He was also taking advice from his own legal team, still representing him pro-bono who have nothing but Axanar's future in their interests. I therefore did not feel that Alec putting feelers out to see what kind of guidelines we would be happy with to be unjustified.

"I did not feel that the guidelines were unreasonable, for starters if guidelines like those are imposed they will not affect what I have planned for Ambush at all, and would allow me not to worry about possible repercussions. I also felt that the guidelines would not drastically change the plans of much larger ongoing fan films I know of. I will adhere to any guidelines that CBS impose, whether they are drawn from Alec's input or not. My thoughts were that if those were the kind of guidelines we would have, I would be okay with that, which is what I expressed to the other producers in the thread. That is the extent of my personal involvement in this matter.

"Because of this, it would appear that Axanar and Alec Peters have attracted lots more heat with accusations that he would ruin the future of fan films etc. I am not involved with Axanar, I do not read the finance reports and I try to avoid any strong opinion making on Alec and other fan film producers. At the end of the day we are all in this for our love of Star Trek and we should be united for that one reason. All I will say is this: 2 years ago when I started Ambush up I was completely new to this game, I was just a Star Trek fan with a Film Production Degree who admired the work that went into fan films and wanted to do something myself. Our Kickstarter was launched during the Kickstarter for Prelude to Axanar, I watched their pitch as research for setting up my own and first Kickstarter and was blown away with what I saw. I wanted to network with other fan film makers but figured best stay away from Axanar, as they were obviously in a different league, although the team I have at Ambush are also professional film makers and really getting some great stuff done which I cannot wait for you all to see. I reached out to other fan film makers, I will not say which ones, but basically no one seemed interested in what we were doing. Then Alec reached out to us, he had seen our pitch and was impressed very much, I believed he was most impressed with the originality and new design work we showcased in our Kickstarter. At this point we had already reached our minimum fund-raising goal, but he still wanted to help. Without me even bringing it up he gave us a massive publicity boost which helped get us beyond our stretch goals and since then he has shown nothing but full support of what we are doing at Ambush. Over the last 2 years we have had nothing but gracious support from the Axanar team.

"Now I do not know Alec as well as others, I do not follow the ongoing legal battle in great depth or read every article about Axanar, I have a full time job and many other things going whilst also doing Ambush in my spare time. I certainly do not have any insider knowledge as to what is going on behind the scenes with Axanar. All I do know is, Axanar looks amazing, I want to see it made, period. It does cost a lot of money to make films of high quality. At Ambush we have been very lucky to have warehouse space donated to us to allow us to build sets. A donation that has currently saved us over £24,000! If that was not a donation we wouldn't be able to make the film we are making. Axanar is not the only fan film I have pledged to, there are many others that are also looking great. I believe in what we are doing as fan film makers and feel that in this day and age with the technology that is accessible, making fan films of this high quality is just the next step in the fandom of Star Trek that has kept the franchise alive for the last 50 years. In the 2 years I have known Alec and the Axanar team, they have showed nothing but support for my own film and many others, so that is what I base my opinion on.

"As always thank you all for your support of Ambush and your patience, we are working on getting some unique and special updates from last shoot to you in the near future.24)

---
Keywords