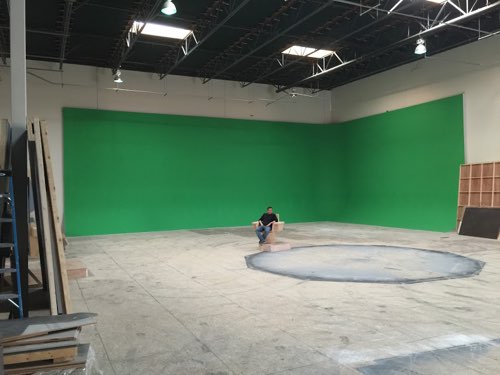 Producer Alec Peters sits alone in the studio on which he spent hundreds of thousands of donor dollars. He now says building the studio was an error in judgment. Image/Axanar Prods.
Peters Admits Studio 'Not the Best Call'
Peters Tells Comikaze Audience He Wishes He Hadn't Raised So Much Money for Axanar.
Table of Contents
Producer Alec Peters told a Los Angeles Comic Con panel he regretted how much money he raised for Axanar and the results of the ensuing mission creep, which included a three-year lease on a warehouse he had built out into a commercial studio.
Stan Lee's Los Angeles Comic Con/Comikaze hosted an October 29, 2016, panel on fan films on which Peters appeared alongside his girlfriend, Crysstal Hubbard, star and producer of a Supergirl fan film, and surrogate blogger, Jonathan Lane of the Fan Film Factor blog.
FAN FILM panel at Stan Lee's Los Angeles Comic Con, October 29. (Video/YouTube)
Mission Creep
"Money doesn't mean a better product," Peters confessed to the panel. "Yes, we spent a lot of money on Prelude [to Axanar]. … I actually wish we hadn't raised as much money as we did for Axanar."
Peters, who described himself as "a chronic overachiever," said he and others drawn to the production succumbed to mission creep:
At some point it would've been good for us to step back, or have some outside force say, you know, what are your goals and do you really need to do it this way?"
« Axanar would be in the can right now and I wouldn't be getting sued. » — Axanar producer Alec Peters
Aiming Lower
Peters admitted that if he'd simply focused on a possibly lower-quality production, "Axanar would be in the can right now and I wouldn't be getting sued" by CBS and Paramount Pictures for copyright infringement after they learned about the extent of Axanar's commercial enterprise.
[

Axanar

] wouldn't be as good as we eventually hoped it would be … but it would be good and everyone would've loved it and I would've gotten to play

Garth

and we would be working on our next project, which may or may not have been a Star Trek fan film.
Studio 'Not the Best Call'
He admitted, in retrospect, that he wouldn't have insisted on building out a commercial studio for hundreds of thousands of dollars raised from Star Trek fans. Peters recounted how he originally wanted to shoot Axanar on the Star Trek: New Voyages sets in New York.
"I didn't see any reason to build my own sets," he said. "My director [Christian Gossett] pushed us to do that. He felt in order to get this professional look we needed something different" — building Axanar its own studio in Los Angeles.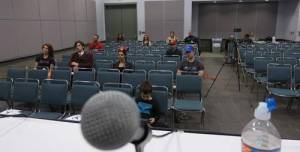 "Ultimately, that was not the best call," Peter said.
Not Gossett's Call
Gossett's version of the story, of course, is different. He told the G&T Show this summer that he did recommend shooting in Los Angeles, with its more readily available crew and better infrastructure to support a professional production. But he pleaded with Peters to not build a studio from scratch.
But, encouraged by his $1.1 million crowdfunding success, Peters went on to do so, seeing an opportunity for revenue by renting out his own commercial studio when he wasn't shooting Axanar. That facility, now called Industry Studios formally began operations in 2016.
An Entrepreneur
Even so, Peters touted the benefits of fan films, which he called a "disruptive technology" at the intersection of accessible high technology and "the rise of crowdfunding."
As an entrepreneur, Peters said, he realized, "All the innovations are disruptive technologies," citing Uber and cheap high-definition digital cameras. "None of that happens in Hollywood," he said, calling studios' products as "regurgitated bullshit."
Rejecting Elon Musk
Peters recounted his own entrepreneurial expertise by citing interest in one of Peters' previous technology companies. "I literally had the opportunity to sell my technology to Elon Musk and Peter Thiel, which would've made me $100 million … [but] it was a crappy deal" he turned down.
Economics of Fan Films
Peters and his blogger, Lane, both commented on the economic opportunity Hollywood studios were missing by not taking fan productions under their wing.
Peters bitterly recounted how he had offered, right after he was sued, to give CBS the completed Axanar — "for free!" — only to see his offer rejected.
DISCLOSURE AxaMonitor editor Carlos Pedraza was a co-executive producer and script supervisor for "World Enough and Time," and a writer-producer for Star Trek: New Voyages.
Lane cited writer Marc Scott Zicree's ("World Enough and Time," Star Trek: New Voyages, 2007) idea that studios should buy the higher quality fan films and air them on streaming services like CBS All Access, charging $2.99 an episode and keeping most of the revenue.
Lucasfilm
Peters asked the panel audience to applaud Lucasfilm for its official support of fan films. "They get it," he said. "I wish I'd been born a Star Wars fan."
He neglected to mention, however, that Lucasfilm's official support extended no further than the five-minute Star Wars fan film contest it sponsors each year. That contest has guidelines even more restricted than the new Star Trek fan guidelines.
And while Lucasfilm generally tolerates longer, more ambitious Star Wars fan films, even Lane pointed out that up until Axanar, CBS and Paramount took the same stance. However, It's difficult to believe Lucasfilm, which prohibits crowdfunding, would ever allow any project to raise more than $1 million as Axanar did.
Parting Shot
Just after the panel formally concluded, Peters took the opportunity to lodge a complaint with fellow panelist Allyson Gronowitz, who writes for the genre website, The Mary Sue.
Peters complained about a "hatchet job" on Axanar done by writer Teresa Jusino back in June, the article, "CBS/Paramount Issue Guidelines for Star Trek Fan Films Because Axanar Ruined It for Everyone."1)
"It was so bad," Peters ranted, prompting a pat on the shoulder by Hubbard, his girlfriend, to calm him. "She never contacted us. Everything she wrote she learned on the Internet. No facts."
The panel discussion came a few days after AxaMonitor reported the plaintiffs had uncovered a trove of Peters' emails that he had not turned over despite their subpoena. That led the studios' attorneys to file an emergency motion to depose Peters a second time in lieu of the email discovery.
A federal magistrate granted that request October 31, and Peters was deposed again on November 2.

---
Keywords