CBS Licenses Star Trek Fan Film Academy
New Voyages' James Cawley Offers Fans a Filmmaking Experience Alongside Trek Professionals
Table of Contents
LAS VEGAS — In an unprecedented move, CBS has granted a license to Star Trek New Voyages producer James Cawley to make fan films through a new Star Trek Film Academy.
UPDATE AxaMonitor now has an exclusive interview with James Cawley for the TrekZone Spotlight. Watch below »
"Learn the art of Star Trek filmmaking from those who made it," Cawley said about the effort which, unlike productions made under the fan film guidelines, will be able to employ people who have previously worked on Star Trek professionally.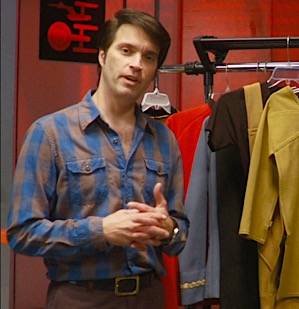 CBS License
Cawley made the announcement at the Star Trek Las Vegas Convention on Saturday, August 6, 2017, at the end of his panel discussing his year-old Star Trek: The Original Series Set Tour in Ticonderoga, N.Y., also a fan-led effort licensed by CBS Consumer Products.
The film academy offers fans the chance to participate in all aspects of filmmaking, Cawley said, "from gaffing to costuming to special effects. Fans will work side by side with talented Star Trek artists to create short vignettes from beginning to end."
Cawley was joined on stage by Trek professionals Doug Drexler, Denise Okuda, Mike Okuda and Daren Dochterman at Star Trek Las Vegas.
James Cawley Interview
EXCLUSIVE AxaMonitor interviews James Cawley for the TrekZone Spotlight about his Star Trek Film Academy, how much it may cost and how it fits into the constellation of Trek fan productions.
Fan Film Rancor
For Star Trek, this marks the first fan-filmmaking endeavor endorsed by CBS, which owns the 50-year-old science fiction franchise.
The announcement follows more than a year and a half of rancor over fan productions sparked by a copyright infringement lawsuit against Alec Peters and his Axanar Productions.
Peters raised $1.7 million, largely from Trek fans' donations, on the promise of making Axanar, what he described as a "fully professional independent Star Trek production."
Axanar Lawsuit
Those words, along with revenue streams such as an online merchandise store rang alarm bells for Star Trek's owners, CBS and Paramount Pictures.
Despite a public warning in 2015 about earning revenue off the studios' intellectual property, Peters forged ahead with his fundraising for the Axanar feature and his plans to build his own studio with fans' money.
Aftermath
Those ill-fated efforts came to an end with the lawsuit's settlement and Peters having to abandon his Los Angeles studio dreams under the crushing weight of $15,000 monthly rent. All told, three-quarters of a million dollars of fans' money was sunk into the studio, which Peters vacated in April 2017.
For the broader fan film community, however, the lawsuit brought a series of restrictions proscribing the scope of their productions, bringing to an end the concept of full-length fan productions.
Axanar Reaction
The Axanar camp was quick to take credit for Cawley's idea, with Peters posting on Facebook: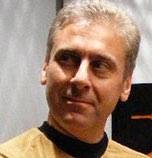 Hey, good for him! Of course, we thought up SciFi Film School in 2015! :) I guess Discovery isn't the only thing taking inspiration from Axanar. :)
Axanar's putative director, Robert Meyer Burnett, tweeted: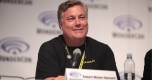 The STAR TREK FAN FILM ACADEMY is a great idea…just another example of how the fallout from the @Axanarfilm case benefitted all fandom.

1)
Peters' girlfriend, Crysstal Hubbard, appeared to refer to the announcement, posting on Facebook:
Oh I laughed so hard this morning!!!! #qualityoverquantity People so proud of being copycats. No original ideas out there anymore I swear.

2)
The Academy
Cawley's academy, anticipated to be a week-long experience in Ticonderoga, N.Y., will take fans through story and preproduction meetings, rehearsals, lighting, costuming and makeup, then filming and post-production — all alongside industry professionals who have worked on Star Trek, such as Mike and Denise Okuda, Doug Drexler and Daren Dochterman. Fans can participate in front of or behind the camera, Cawley said.
Starting Up
The academy will start business in the fall, with the first class and their fan films expected in Spring 2018, all using the New Voyages sets and production facilities.
Cawley is excited about the latitude he said CBS has given him with regard to scripts and integrating professional Trek alumni from both behind and in front of the camera into the fan production effort.
While many longtime Star Trek fans have criticized CBS for its fan film restrictions, Cawley reminded the Las Vegas audience, "The people at CBS are themselves Star Trek fans," who want to support fan filmmaking.

---
Keywords