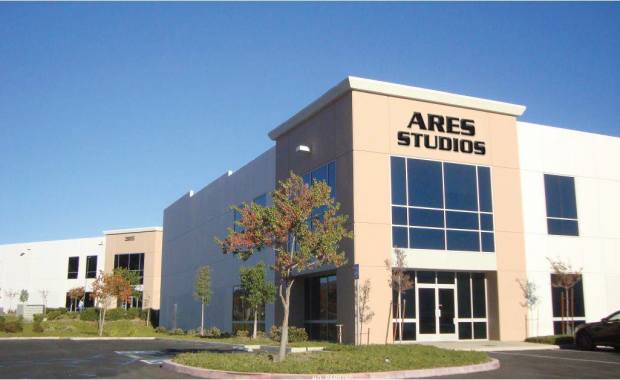 Investor Group Plans to Buy Axanar's Studio Assets
Third Name: Industry Studios

TREKYARDS PODCASTER Stuart Foley takes a tour of Axanar's soundstage and set. He has since removed this video from YouTube but AxaMonitor obtained this copy.
UPDATE JUNE 16, 2016 — Axanar appears to have re-branded its soundstage and production facilities for a third time, naming the property Industry Studios.
In a "Captain's Log" video recorded during a visit to the studio, Trekyards podcaster Stuart Foley noted the name change:
Ares Studios, Industry Studios, I keep having to correct myself. … They changed it to Valkyrie Studios, and they didn't like that name, so they changed it to Industry Studios. Long story about that. Alec kind of filled us in on that.

1)
Though Foley's video doesn't go on to explain why Peters changed the name of the facility, the property is located on Industry Drive in Valencia, Calif. Foley later removed the video, part of an apparent effort to distance himself from Peters in the year following the end of the lawsuit.
Second Iteration: Valkyrie Studios
MAY 12 — Axanar appeared to have re-branded its soundstage and production facilities, marketing the property for rental as Valkyrie Studios.
An advertisement on the rear cover of the playbill for the Sci-Fest LA one-act play festival last week touted the features offered at Axanar's facility:
Whether you're looking for a place to shoot a commercial, a promotional piece,

a fan production,

a TV show or a small feature film, you'll want to check out all the amenities that Valkyrie Studios in Valencia, California, has to offer.

2) [emphasis added]
Axanar producer Alec Peters sits on the board of directors of Sci-Fest LA,3) which also planned to screen Prelude to Axanar as part of its festival on May 21.4)
In a Facebook post in early May, Peters announced that the studio, built with funds donors intended for production of Axanar, would begin to be rented in June. On the June 22, 2016, episode of the Indie Apocalypse podcast, Peters claimed the renter was "a major production for one of the cable channels."5)
Shifting Domains
The domain name indicated in the Valkyrie Studios advertisement, valkyriestudios.la, was registered on February 29, about two weeks before the announcement of the asset transfer. The domain name was not yet associated with a website, but a May 12 reverse IP search indicated it was part of a family of domain names owned by Alec Peters, including ares.studio, aresstudios.net and galileorestoration.com.
UPDATE By the next day, May 13, the IP address for valkyriestudios.la had changed so that a reverse DNS lookup no longer connected it to the other Peters-owned domain names.

HERE TODAY, GONE TOMORROW On May 12, a reverse IP lookup revealed Valkyrie Studios' domain was hosted at the same IP address as other Peters-related domains. By morning May 13, following AxaMonitor's publication, the new studio's domain pointed somewhere else.6) Click image to view full-size.
Curtis Short, named in the Valkyrie flyer, had been formerly identified on the Axanar website as the Ares Studios soundstage manager.
Peters had hinted for a few weeks that an announcement was coming, most recently in an update to Indiegogo contributors:
Stay tuned for more information on our production and the completion of the studio on our website or Facebook page.

7)
That same day, Peters leaked more information ahead of his coming official announcement in answer to a Facebook question about the proposed trial schedule, on Axanar's budget: "Seems like just long enough for Axanar to run out of money." Peters replied:
Yeah, not an issue. We will be renting out the studio starting next month.

8)
The Future of Axanar's Production
A formal announcement about the rental and the Axanar production, he said in the May 5 Facebook thread, was to come shortly.9) As of July 2017, that announcement had yet to come.
Peters: 'No Comment' on Investor Group Membership
Peters refused to say whether he is a member of the private investment group that wants to buy the Ares Studios assets, but also claimed in an April 3, 2016, interview he had no asset to sell.
See also: Another Company Emerges in Axanar Studio Ownership
Two weeks previous, he had announced a sale pegged by his spokesman, Mike Bawden at around $400,000, that would provide funding to his cash-strapped production.
AxaMonitor asked Axanar spokesman Bawden if Peters or any other Axanar principal is a member of the investors group or has some tangential financial interest in its activities moving forward, such as break on studio rent, priority on use of facility, continued housing of Axanar and Propworx offices, or anything else.
Bawden said Peters had no comment at that time.10) However, in a video interview with the Australian news site, TREKZONE.org, released April 3, Peters expanded on the topic:
I'm not going to talk about that until we release all that information to the donors. Let's be very clear: People say we built a for-profit studio. Totally false. There is basically a building that has two years left on its lease. Someone needs to pay for that. An asset is something tangible that is worth money that you can go out and sell. We have no such asset.

11)
However, there appeared to be something of value in the studio, as Peters went on to offer a 2 percent stake in it to former chief technologist Terry McIntosh in May 2016 in exchange for McIntosh's Ares Digital software, which was intended to fulfill perks from the crowdfunding campaigns, but utterly failed. McIntosh turned down the offer, saying the investment was too speculative to be worth the value of the software.
Legal Sign-Off
Bawden was also asked if Peters' attorneys, Winston & Strawn, had been consulted about the asset transfer's impact on the defense strategy in Axanar's copyright lawsuit. He replied:
Based on my conversation with [Winston attorney] Erin Ranahan, [she] doesn't appear to be overly concerned. From my experience in handling asset purchases and transfers as well as the general conversation I had with the [investors'] "spokesperson" I talked to … it seems pretty clear to me that the intent is to make sure all parties to the lawsuit will be aware of the terms of the transaction and will be okay with it.

12)
THE POPULAR Star Trek podcast, The G&T Show, examines the possible sale of Axanar's "Ares Studio" assets, and what's the upside for Axanar and the secret investors. Listen in at the 01:15:00 mark.
Asset Transfer
MAR. 16 — Buried in an FAQ about its copyright lawsuit, Axanar Productions announced a private investment group plans to buy out the "Ares Studios" asset built with hundreds of thousands of dollars in donor funds.
In that blog post, producer Alec Peters wrote:
'As for the identity of the investor group, I know who they are and they've said they are a private organization and intend to stay that way.' — Axanar spokesman Mike Bawden
A small group of backers and fans have developed a plan to set up a separate company to take over the management the sound stage, pay the rent and reimburse Axanar Productions for the cost of the build-out. That company will assume the $250,000 liability for the remainder of the lease. To do that, the new company will need to be a for-profit entity and raise investment dollars for capital.
According to Axanar spokesman Mike Bawden, those investors "will have no interest in Axanar Productions or its projects," adding:
They are looking at the viability of renting the soundstage out to productions (including, I presume,

Axanar

). What such a transaction would mean, however, is that Axanar Productions is out from under the ticking clock that was the monthly rent payments for the soundstage, etc.

13)
This news may change the landscape of the lawsuit, which alleges the defendants enjoyed‭ "‬a‭ direct financial benefit" from infringing on CBS' and Paramount Pictures' ‬Star Trek copyrights.14)
‬In public statements, Axanar and its supporters have claimed they had to have made a profit for CBS and Paramount to claim it had done something wrong‭. ‬However, the production's fundraising activities have translated into direct financial benefits‭ (‬e.g‭., ‬salaries‭, ‬a studio infrastructure for publicly declared future for-profit activities‭) ‬for both individuals associated with the production‭, ‬and for Axanar Productions Inc‭., ‬a registered for-profit corporation in California‭.15)
Axanar has been criticized for its use of Star Trek's copyrights to raise money that went to fund a studio intended to be used for future for-profit endeavors. Bawden said this investor group essentially pays Axanar for the donor money spent on the Ares Studios infrastructure, allowing that amount to help make up the fundraising deficit for production of the Axanar film:
'This is a win-win for everybody. ' — Axanar producer Alec Peters
Axanar Productions would be paid back for the amount invested in the studio build-out; the donors will not have paid for anything having to do with the warehouse.

16)
Bawden added, "It also means, I assume, that Axanar Productions will have additional cash on-hand if and when the lawsuit settles. Exactly how much and when, I don't have those details."
Peters said he considers this new investment plan to be a "win-win for everybody. The new entity will reimburse Axanar Productions all the money that was spent on upgrading the building and those funds will go into the production."
Who Are the Investors?
Bawden says the identity of these "backers and fans" will not be disclosed:
As for the identity of the investor group, I know who they are (at least most of them) and they've said they are a private organization and intend to stay that way.

17)
'Axanar''s Production Budget
What are the implications of the Ares Studios assets' sale on the incomplete production budget for the Axanar film? Bawden lays out the following figures:
They've put a great deal of money into a soundproofed floor, a massive green screen, a lighting grid, sets, equipment, ventilation, etc. All of the physical assets that were paid for out of the

second Kickstarter

campaign. I think in that campaign, the budget was $400k for all of that and I'm under the impression the actual cost was more.

18)
At last report, Axanar's production budget was still short $745,566. The capital infusion from the investors' buyout would make up possibly half the shortfall.
Of course, Axanar still faces the possibility of damages from the copyright infringement lawsuit it is defending against CBS and Paramount Pictures. Bawden explained on Facebook:
The money that went into the soundstage build-out will now flow back into the production budget. Exactly what this will mean as far as what gets produced is still up in the air until the lawsuit is concluded in some form and fashion.

19)
---
Keywords